Every year, EdReports hosts more than 100 educator reviewers for an in-person multi-day training. This was not the case in 2020. Instead, we hosted 250+ reviewers in what became our largest training to date—and we did it all virtually and with very little time to plan.
Our plans this year, like everyone else's, changed abruptly with the onset of the COVID-19 pandemic in the spring. The need to provide professional learning did not diminish, as training educator reviewers on the tools and systems they will use to conduct reviews of instructional materials is an important opportunity that we offer each year. This training also provides an invaluable opportunity to create and build community, which is key to educators working together in teams as they spend hundreds of hours reviewing curricula.
We weren't in a position where we could simply scrap our plans; without a successful training we would be unable to continue creating the reviews that are the heart of our organization and mission. Instead, we realized we had to invent an entirely new approach, moving the entire training online.
The Opportunities of a Virtual Training
As we dove into planning, we were cognizant to not simply replicate an in-person training and retrofit it for an online audience. Instead, we hoped to embrace the format, consider how remote sessions could offer new possibilities, help us address challenges within the organization, and provide learning in ways we never imagined before. As a fully virtual organization since our launch in 2015, we were fortunate to have deep experience with virtual platforms and conducting online meetings. However, a large scale training was a new challenge.
Some things didn't change. We still had cancellations at the last minute. We still had questions about "where the room is." Transitions from session to session still took five minutes. But we found through a purposeful and thoughtful approach, a virtual setting actually allowed for unexpected and exciting opportunities. For example, a virtual training is far more flexible and accessible than an in-person one. We were able to nearly double the amount of educators we could train from 150 to 250+ since space and budget were no longer obstacles.
We learned that virtual tools could be used to amplify a variety of voices and create spaces where everyone could participate. We also saw that while community building might look different in an online format, we were able to create new connections and support reviewers to go beyond traditional social bonds, particularly the divisions we sometimes see between new and more experienced reviewers. Finally, we were excited to see deep engagement, learning, and easy sharing of resources throughout our three days together.
5 Recommendations for a Great Virtual Training
Virtual professional learning will likely be a reality for many organizations and schools for the foreseeable future. It's more important than ever that we're able to learn from each other. In that spirit, consider these five recommendations that helped us achieve our goals and conduct a training we're proud of and that educators found valuable.


1. Planning is key – identify goals and outcomes
While we learned that virtual formats offer a lot of possibility, ensuring the platform can meet your goals involves first establishing what those goals and outcomes are. We identified early on that accessibility, equity of voice, community building, and engaged learning were the north stars for our training. This allowed us to work backward, consider our goals as we designed sessions, and explore ways we could achieve our outcomes virtually. It was also important to us to ensure that we did not lose the best practices of professional learning and instead transitioned those practices to work in a virtual space. What could our primary platform (Zoom) offer and how does it support what we know about best practice in professional learning? What other platforms should we explore to augment the experience? How could we be creative to get the most out of our tools? What new challenges would arise that we should be ready for before they appeared? The questions went on and on but having specific outcomes to guide us made a huge difference.
2. Involve participants before the first session
Accessibility and equity of voice did not begin with our first session. Because these components were integral to our goals to begin with, we knew including participants as part of our planning and thinking was a must.
We made a point to reach out to attendees to get ideas, to ask for feedback about what we were preparing, and to include them as co-facilitators and panelists. As educators, many of our reviewers had already been spending months teaching virtually and had a wealth of information that ultimately shaped our training for the better. Being willing to involve others, especially your intended audience and those with experience in a new platform, can take your training to the next level.
3. Strategically use the chat and chat moderators to amplify voices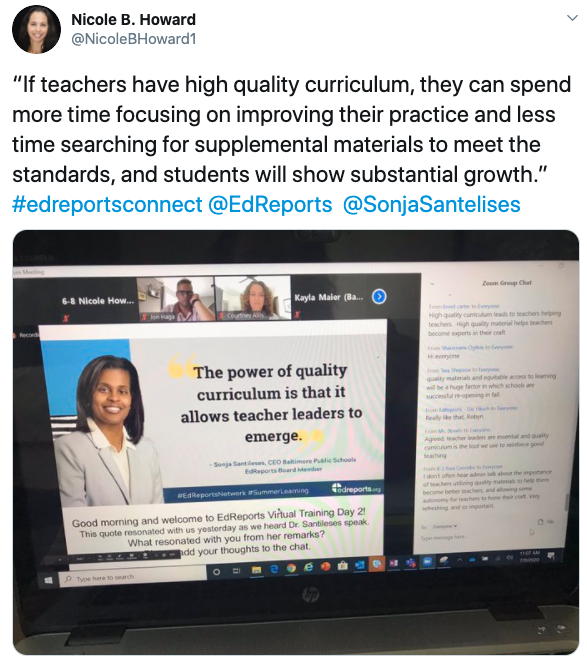 The virtual platform offered creative ways for us as facilitators to amplify and elevate all voices. Important questions to consider for any training is who is being provided opportunities to speak, whose ideas are elevated in the conversation, and who is being affirmed in their speech? The chat feature became our best friend to address these questions. In our opening sessions we provided prompts which set off incredible discussions and sharing of ideas in a way that would not have been possible if so many people were speaking in person. As facilitators, we could call out and highlight individual reviewers—and many reviewers did this for each other as well.
A beneficial learning from the training was that staff could use the chat feature to privately send notes to facilitators or attendees. We could also create private groups or channels that allowed us to make improvements to our sessions in real time.
The chat function turned out to also be a very effective way to share resources. In past in-person trainings, if someone had a connection or resource to share this typically happened between individuals sitting together. But in a virtual setting, most reviewers shared resources through the chat. What was once a casual exchange between table-mates or a single small group interaction was suddenly public and accessible to all.
4. Reinvent the 'turn and talk' through breakout rooms
A big concern we had was how to keep engagement at a high level and find a way to build community when participants were separated by thousands of miles. For our in-person training, we often made time for small group discussions and quick turn-and-talks to break up all of the intensive information participants were learning. We did not want to lose this nor did we want folks dropping off the session simply because we weren't holding their attention.
The Zoom breakout room functions were ideal for us to maintain our small group strategy and to try new things as well. Groups could be a variety of sizes, assigned randomly, or assigned purposefully. This allowed us to really shake up who was working together and build community through deliberate groupings. The Zoom platform provides the ability to send messages to breakout groups and to set specific times groups will meet together. Sometimes, the 'turn and talks' would only be for a minute or two. Other times, the discussions would be longer so reviewers could dive deeply into topics. Always, we set aside time for whole group sharing when participants came back to the main room.
Our breakout room use meant that no session ever looked the same and that participants were never staying in one place without a way to process and learn from each other for very long. Circling back to the full group, facilitators used the chat and share out prompts to ensure the great ideas from the breakout rooms were not lost.
5. Use supplemental platforms to bring sessions to life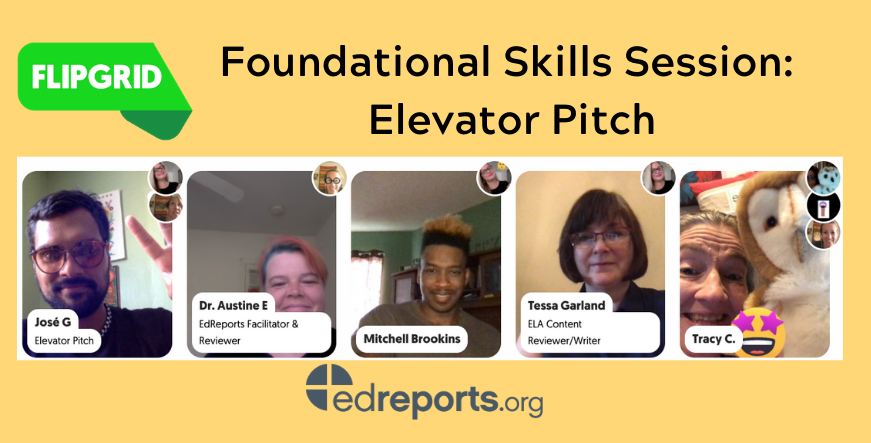 Zoom did not fulfil all our needs, and it's unlikely any one platform will be enough to achieve your goals. In fact, the use of additional platforms to bring sessions to life and facilitate public resource sharing was widespread in our training. Included in our supplemental add-ons were programs such as Jamboard and Flipgrid. In one session, a facilitator created a virtual 'escape room' where participants had to demonstrate their learning about the science of reading in order to get out of the room and move on to the next activity.
Be flexible enough to explore new platforms that will work well with your primary one, and consider creative ways the platforms can support your sessions.

Embrace the Moment, Learn, and Improve
This training was not a one-and-done. We do not plan to use this training as a simple template to be followed year after year. Part of our shift in thinking was in treating this as an evolving process as opposed to a one-off event.
Building community, creating a truly equitable space, and ensuring deep learning are longtime ventures that can only be achieved if we continue working with and supporting the educators who dedicate their time and expertise to help us fulfil our mission.
These educators inspire us to challenge ourselves to think in new ways, to adapt to solve real problems, and to reinvent our processes as we continue to learn together in order to provide the best experiences that value everyone's contributions.
We don't know what the future holds, but we've seen what's possible when educators from across the country come together in support of improving the educational experiences of students everywhere and it is powerful.