A district is taking on a comprehensive materials adoption process. They gather all significant stakeholders to start developing their district lens, and define local priorities. Next, they create review criteria to assess each curriculum for college and career-ready standards and community needs. Stakeholders provide feedback on selected materials, and after many rounds of conversations, the curriculum list is final. Before long, the new curriculum is available in schools—but there's a problem. A year after implementation, the materials remain on the shelves, gathering dust in their packaging. Why?
To find the answer, we have to travel back to the beginning and ask, who was invited to the decision-making table? If teacher voices were not an essential component at every step of the adoption process, this cautionary tale could happen in your district.
When teachers are engaged, the chosen program is more likely to be used in classrooms. What's more, teachers trained in the best practices of identifying college and career-ready standards can become powerful advocates for equity ensuring that materials speak to the needs of all students.
Elevating Teacher Voices
We sat down with some fantastic teacher leaders and educators to listen to their curricula adoption experiences. Their perspectives offer insight into what every district leader should know about why including teacher voices is vital to student success.
Why is it essential for teacher voice to be part of curricula conversations?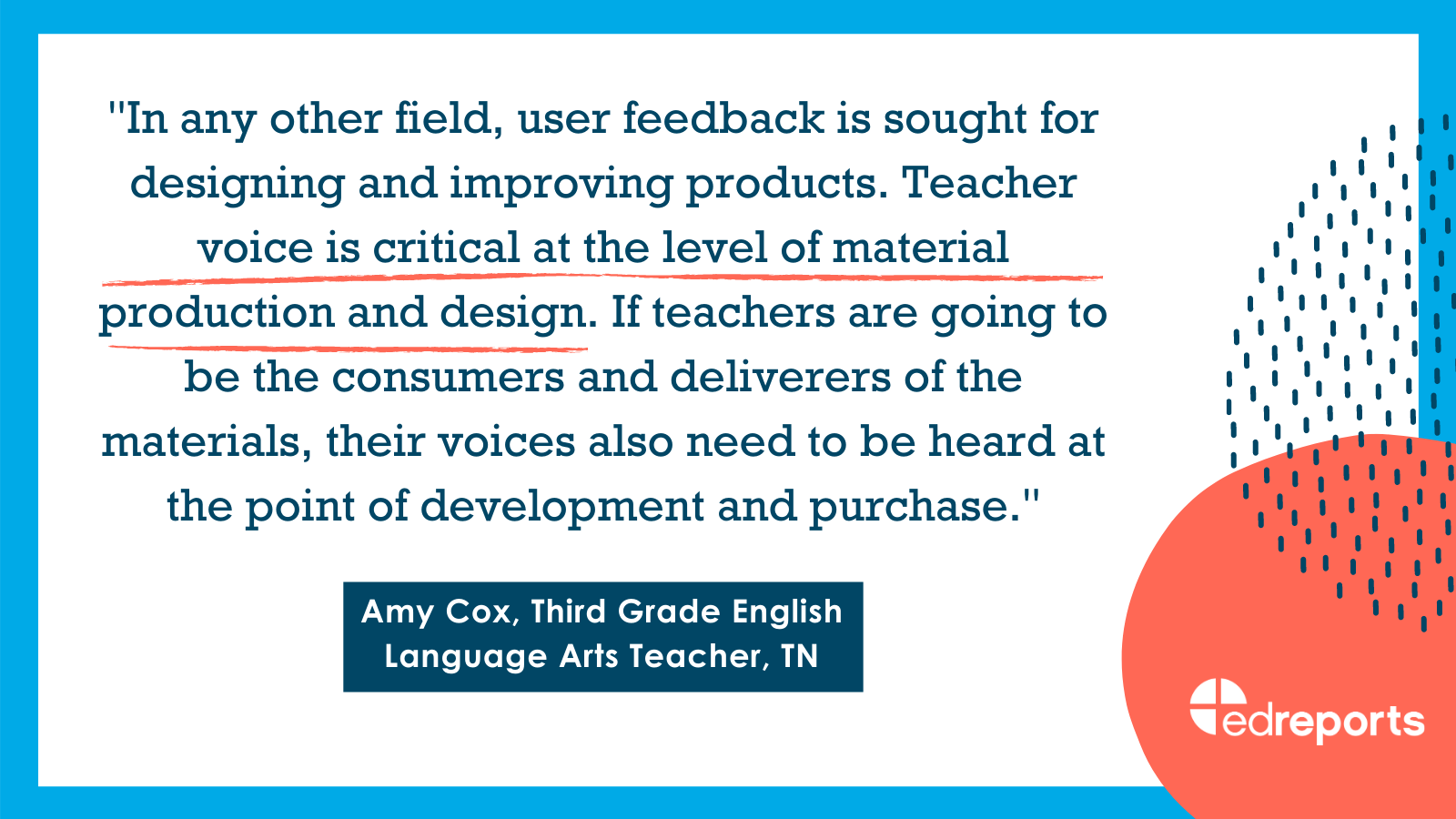 Teachers know their students and teachers are the ones using the materials. It is important that teachers understand the standards and pedagogical shifts. This helps them to feel more confident in contributing to the conversation.
- Morgan Martin, Secondary Science Teacher, CA
What has your experience been with a school or district materials adoption?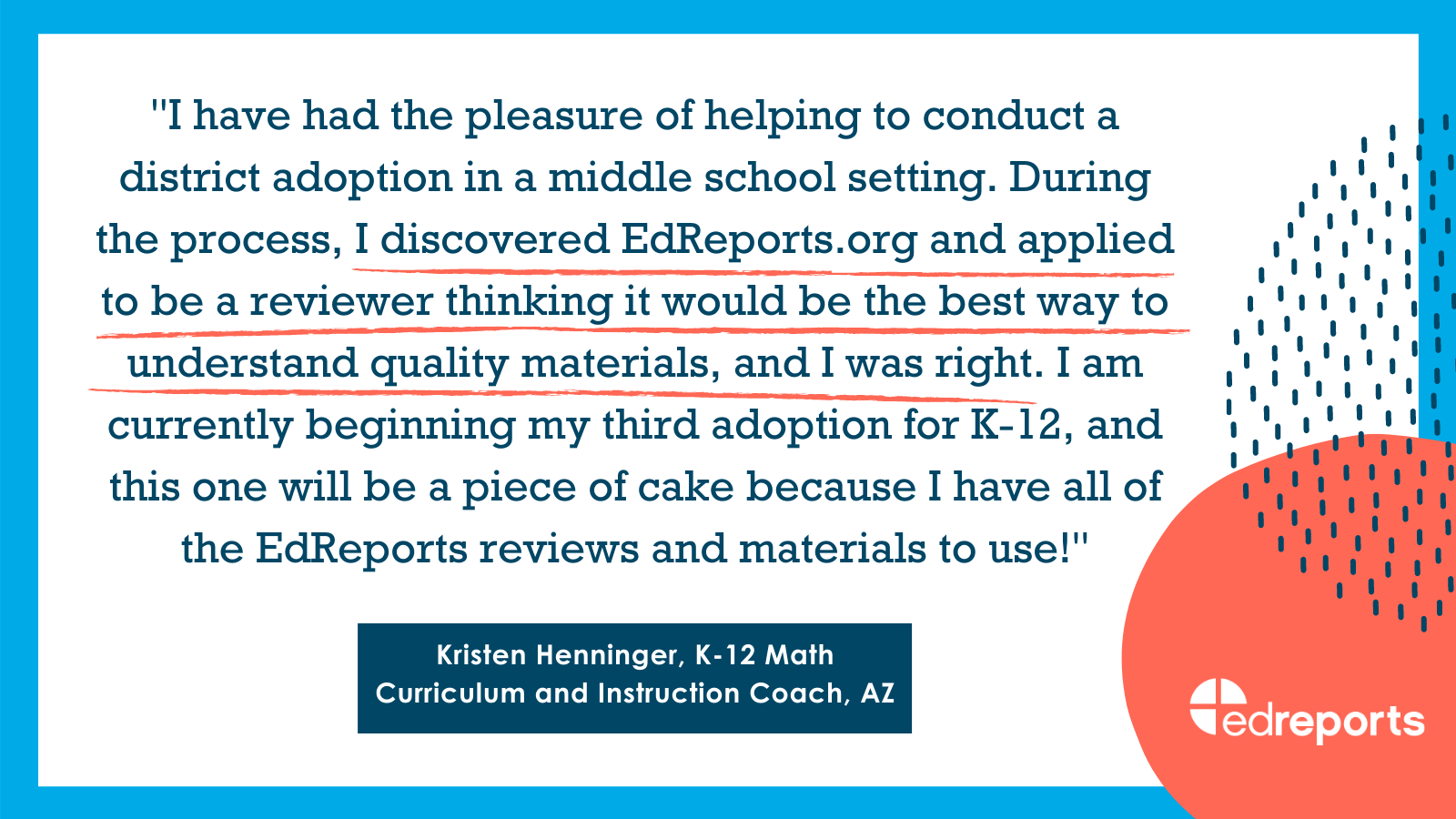 [In our adoption] we didn't look at any actual materials until we had done deep learning, discussed the review rubric the district had developed, and had a full understanding of EdReports reviews. Having the opportunity to learn the research behind why materials matter and the standards and shifts gave us the tools to evaluate programs more deeply. To understand that materials are not always what they claim and that there was a way to investigate alignment was transformative.
- Mary Donnelly, Elementary/Middle School Principal, MD
What is most essential for you when it comes to selecting instructional materials?
Equity is one of the essential pieces of the curricula selection process. Science is a social process. There should be a rich discourse in the classroom involving sense-making about scientific concepts where everyone is included and encouraged to show up fully. The students' cultural context should intersect with looking at the natural world and figuring it out.
- Christopher Soldat, Science Curriculum Consultant, IA
What is most important for district leaders to know when planning for materials adoption?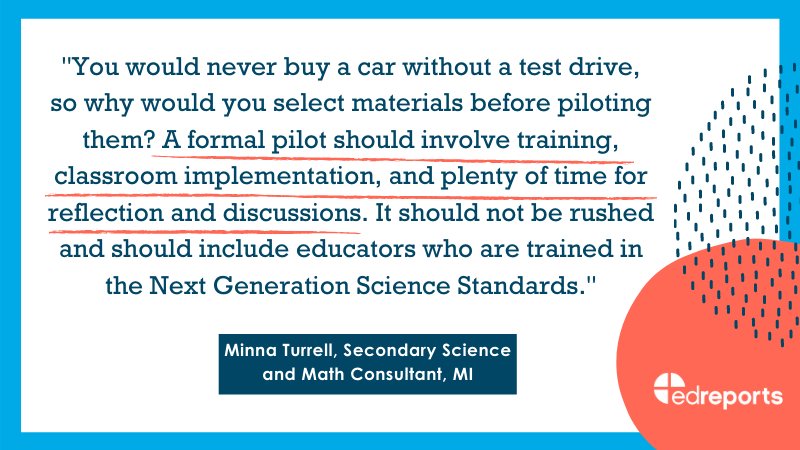 I have been in districts that used the same materials for 14 years and ones that provided one-half day of teacher planning time to "pick something to use next year." Neither of these extremes exemplifies a process for curriculum selection that supports educators or students. Provide time for your teachers to use the selection process as a professional learning experience. Don't shorten the process. Implement selection processes with consistency, just as you expect your teachers to implement the standards consistently.
- Sharla Dowding, Director of Field Experiences, SD
What advice would you give to district leaders about including teacher voice in the adoption process?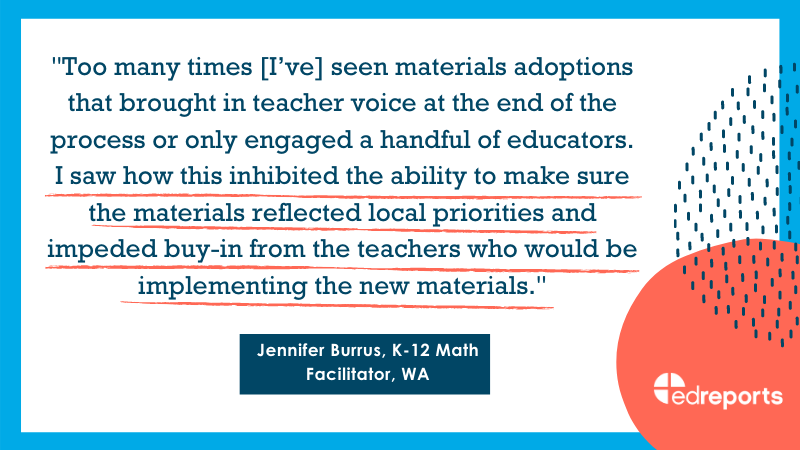 Create teacher cohorts to evaluate the materials using available tools that include local priority criteria and EdReports reviews. It is vital to include parents, students, and teacher surveys about what the community needs and embed them in the review tool.
- Casie Wise, Educational Consultant, TN
Make sure that teacher voice is included at the beginning and end of the adoption process. Provide teachers with the training and the resources they need to give the adoption process the attention it deserves.
- Kelley Cusmano, English and Student Leadership Teacher Leader, MN
What additional thoughts would you like to share about teacher voice in the materials selection process?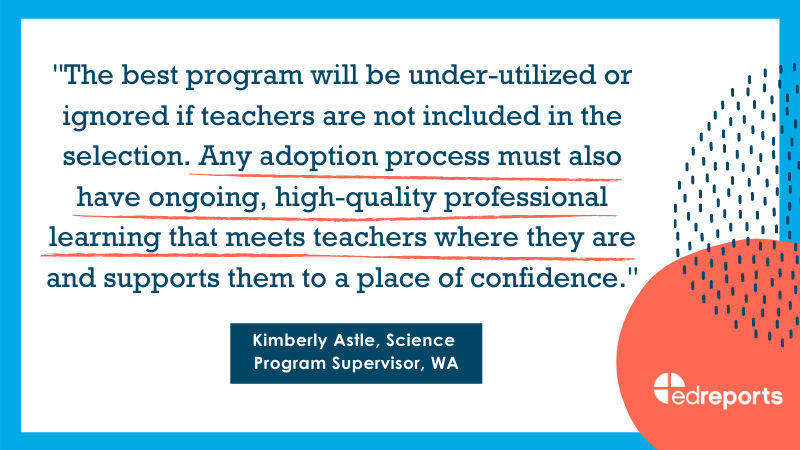 When doing a district-wide adoption, every school and every grade level must be represented. These representatives can communicate with teacher and parent groups to get feedback from these critical stakeholders. In my district, every instructional material adoption team member can prepare a statement on the final voting day to support their choice of curriculum. This is one way to ensure ALL voices are heard.
- Nicole Erdelyi, Secondary Math Curriculum and Instruction Coordinator, NM
We feel invested in the program not just because our opinions are valued, but because our knowledge of our students and our classroom expertise is reflected in the materials we select.
- Brad Hoyt, Eighth Grade Teacher, WA
Teachers Empowered to Advocate
Regardless of where you are on your teaching journey, your voice can make a difference. If you're unsure where to begin, there are several steps you can take right away to benefit your students.
Consider how to present the data on high-quality instructional materials to different stakeholder groups. If your district is considering an adoption, the EdReports review process is a template you can use to help stakeholders understand how to create a review tool that is comprehensive and standards-aligned. We also have resources and profiles that illustrate how to involve educator voice at every step of the process. In addition, knowing the legislature, policies, and requirements for instructional materials selection can prevent delays that might shorten the time you have for discussion and feedback.
When you bring together the research on quality instructional materials, the selection process, your local context, and your personal experience as a teacher, you have a powerful tool for change.